BASIC INFORMATION
Name: Pavel Marciniç
Alias: Red Eyes
Age and Gender: 32, Male
Alignment*: Neutral Good
ABOUT YOU**
Anime Picture Base (Provide a Picture): Crowley Eusford (Seraph of the End/Owari No Seraph)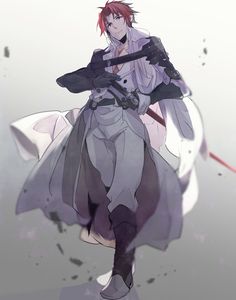 Personality: Humble, Intelligent, Kind, Traumatized, Introverted, Analytical
Background Story: Pavel grew up in a poor area in his home country of Croatia. Many a street fight was had in his adolescence, but he shaped up into a man upon graduating from high school. Pavel worked very hard and got engaged to the woman of his dreams, he planned a lavish wedding and had never been happier. Until one night, not a week before he was to wed, he came home from work to find his find his fiancé brutally murdered. This gave Pavel a new lease on life and without a word to his family, he began plans to immigrate to the United States.
The Reason Why You're in Debt***: Pavel is fighting so that he can pay immigration fees and begin a new life for himself in the land of opportunity.
FIGHTING STYLE AND POWERS
(Create moves based on your "Class" and Personalize your technique and weapon)
Class: (Choose one out of the six classes) Dual-Wield​ (Medium Armor)
Weapon of Choice: (For Elementalists, Choose 1 Starter Element): Dual Karambit Knives with Tragedy masks engraved on them.
Attack Moves: "Slash" (A horizontal or vertical slash designed to cut the enemy or even create distance between them), "Stinger" (Pavel unleashed multiple forward stabs with his weapon and then an overhead stab), "BULLSEYE" (Pavel throws one of his knives at the abdomen or head of his enemy) (will only do this if he's in a vicinity where he can collect his knife back if thrown)
Defense Moves: "Block" (Puts one or both knives in front of him to block or deflect an incoming attack)
Special Attacks: "Red Wedding" (Pavel turns his blades and pushes them into his enemies' neck), "Croatian Street Fight Punch" (A Right handed haymaker that has never failed him in a street fight in his home country of Croatia)
Special Skills: "Counter Hit" (Pavel often attacks immediately with a forward slash after a minor hit is sustained, this ability boosts his attack speed), "CHEERS!" (Drinking alcohol will boost his attack power, heal him and sometimes enter him into "Drunken Fist" Status) (effects are boosted if the drink is vodka), "Drunken Fist" (Pavel goes into a rage in which his attack power is boosted and he cannot take damage for a short amount of time) (think any sort of rage mode in a video game)
OTHER INFORMATION
Discord Name: Deus Ex Fuckina
Special Information****:
Notes: Pavel is constantly haunted by visions of his deceased fiancé and often cries to himself about it.
Pavel likes to be appreciated and gets cheered up by compliments.